You can get the class number to register for a course by visiting the Search for Classes page.
Once on the page, you must do the following:
Pick the term (ex. Fall 2017).
Pick the Subject (ex. ENC = English Composition).
Enter a course number (ex. 1101). If you do not know the course number, you can leave this field blank.
Pick the Campus (ex. Wolfson).
Click the Search button at the bottom.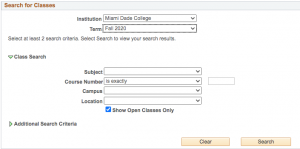 6. After you click the Search button, the results will display on the following page. The class number is the four- or five-digit number which appears in the first column labeled "Class."