An email from (adobesign@adobesign.com) is delivered to the recipient's email box.

The subject line will start with: Signature requested on {The document name}
Please be aware that sometimes these emails can end up in your "junk folder"

The agreement is opened by clicking the Review and sign button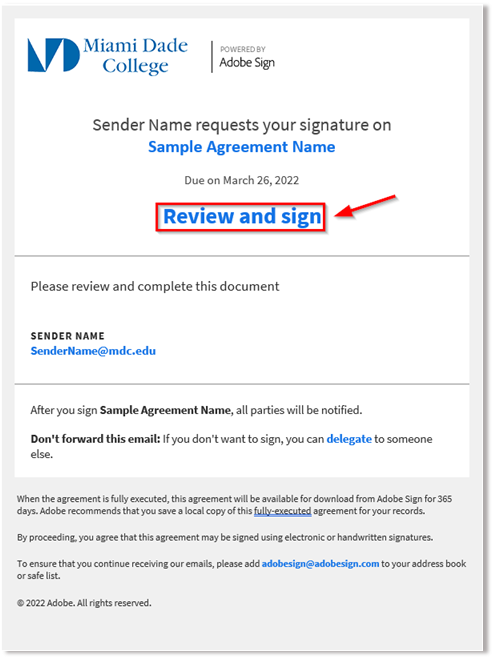 The Agreement opens in a new browser window
Other options on the page include:
Options – This list includes the options the recipient has based on their role

Read Agreement – Opens the agreement in a view only format
Delegate signing to another– The option allows the recipient to delegate their authority to another individual. For example – a colleague or a manager
Decline to sign– This action terminates the agreement
Clear document data – This options will clear all field contents
View history – Opens the current audit report for view
Download PDF – Downloads the current version of the agreement in PDF format

Message – The speech bubble icon will pop-up the messages again
Field Counter – This counter shows the number of required fields on the document that still haven't been filled. Clicking this field will navigate the signer through the required (not optional) fields available to them
Next Field Tab – This yellow arrow can help find the next fields if you are scrolling through a large document.  This tab will cycle all fields, not just the required ones.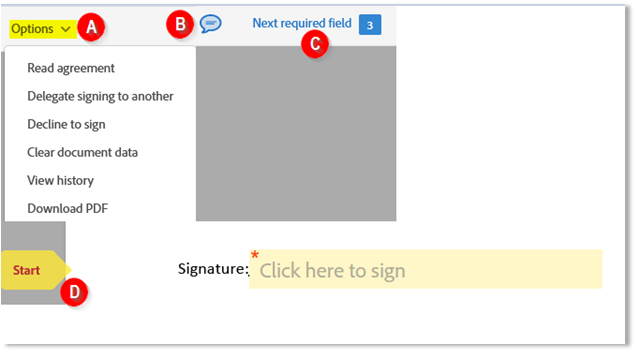 This document only has one signature field, and it is required (as noted by the red asterisk). For documents with multiple fillable fields, you can tab through them.
To apply a signature, double click the field to open the signature panel
Type your name into the top field of the signature panel
Finalizing your signature can be done in one of three ways:
Type set font (default) – Adobe Sign will apply a script-like font to the name you enter
Physically drawn – Using a mouse, stylus, or any other pointer device, physically draw your signature. Using your finger on a tablet provides an excellent result
Image – If you have a stamp image of your signature, you can upload it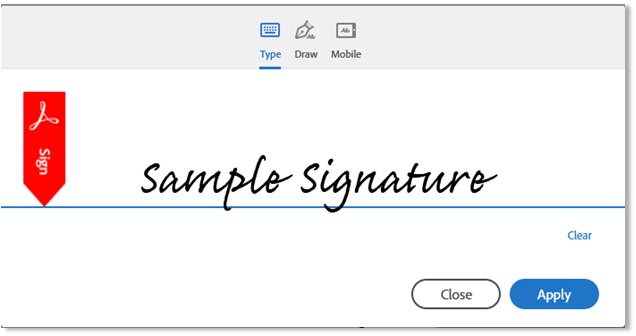 Click Apply to place your signature in the signature field and return you to the document.
Once all of the required fields are completed, click the Click to sign button at the bottom of the window (you can't miss it)